---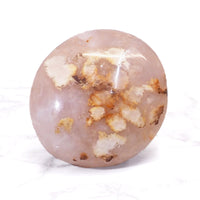 Flower Plume Agate Palm Stone
Rocky's Crystals & Minerals
Flower Plume Agate is a spectacular new find from Madagascar. It is a type of plume agate (agate with plume-like inclusions). However, instead of 2-dimensional plumes, as found in other types of plume agates, Flower Agate plumes are more 3-dimensional, and their cross-sections create gorgeous flower-like plumes. Flower Agate will help you to blossom and reach your full potential. It can aid as a protector from your own fears & self-doubt to allow you to grow. Orbicular patterns on Flower Plume Agate  are reminiscent of seeds, and the floral plumes are reminiscent of blossoms. Pieces with both orbicular patterns and flower-like plumes help us to envision the process of growth. They Flower Plume Agate also aids in manifesting & nurturing your dreams. Its beautiful - soft, feminine energy ignites passion to pursue our dreams and live life to the fullest. It is the perfect stone for entrepreneurs hoping to grow and flourish their business, or for those starting a new endeavor in their lives.

Size: Approx. 1.75"-2" each
Quantity: 1 
Please reference picture as an example of the product. All stones will vary based on its natural occurring shape, color and variation given by mother earth.