---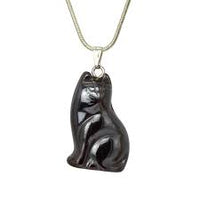 Hematite Cat Pendant (No Chain)
Rocky's Crystals & Minerals
The cat symbolism has been important in cultures all across the world, but they were especially honored by the ancient Egyptians, who believed that this spirit animal was magical and god-like. Cats were said to have magical powers and the ability to predict the weather and natural disasters. This animal is a highly adaptable creature, and if you've found yourself in a place of drastic change in your life, cat totem spirit may be reminding you to go with the flow and open up to the change.
Hematite helps to absorb negative energy and calms you in times of stress or worry. Hematite is a very protective stone and is great to carry to help you stay grounded in many situations. Hematite is also good for working with the Root Chakra, helping to transform negative energies into a more positive vibration.
Approx. Size: 1.75" each / Chain not included. Purchase chain here:  https://www.rockyscrystalsonline.com/products/silver-plated-chain
Please reference picture as an example of the product. All stones will vary based on its natural occurring shape, color and variation given by mother earth.