---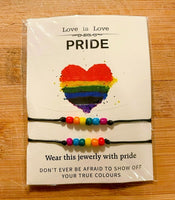 Pride Friendship Bracelet
Rocky's Crystals & Minerals
You've probably seen someone wearing a rainbow bracelet around campus, and you probably have an idea of what they mean. Rainbow bracelets are a symbol for the LGBTQ+ community, but that doesn't mean you have to be LGBTQ+ to wear one of the bracelets. If you support the community and want to show solidarity against LGBTQ+ discrimination, then these bracelets can go a long way for you, the community, and their allies. Not everyone is aware that those bracelets symbolize the LGBTQ+ community, and even the people who do realize might ask you about it, and usually the conversations start from curiosity, not hostility. Also, if a member of the LGBTQ+ community needs assistance of some sort and they see you wearing that bracelet, they'll be much more comfortable approaching you because of it. Whether you're LGBTQ+ or not, saying you're an ally of the community is important, and these bracelets are a good way to start showing your support for the community.
Approximate Size: Adjustable string for each bracelet
Please reference picture as an example of the product. All stones will vary based on its natural occurring shape, color and variation given by mother earth.