---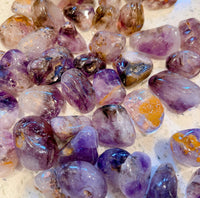 Rare Namibian Brandberg Amethyst
Rocky's Crystals & Minerals
Brandberg Quartz are found only in the Goboboseb Mountains (more often known as Brandberg locality) in Namibia, Africa. These crystals have a combination of Amethyst, Clear Quartz and Smoky Quartz. This location is known for exceptional quality crystals with great clarity, and rare and interesting inclusions. Brandberg Amethyst engenders unconditional love and Divinity at the center of the universe. It brings profound healing, especially in matters of the heart. It is excellent for dissolving past-life heartbreak or soul-contracts, and frees one to manifest a partner who supports one in their fullness and spiritual being. Although it is primarily associated with the Crown and Third Eye Chakras, it can in fact be used to activate all the chakras. Brandberg Amethyst is an excellent aid for meditation - the perfect combination of Amethyst to induce a calm, deep meditative state mixed with Smoky Quartz helps to keep you grounded. a great stone for pain relief, and helps to prevent a healing crisis after a strong energy session.
Size: 1" each depending on in store stock.
Quantity: 1
Please reference picture as an example of the product. All stones will vary based on its natural occurring shape, color and variation given by mother earth.