---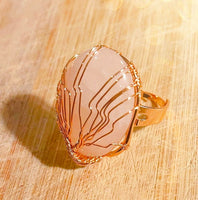 Rose Gold Plated Rose Quartz Gemstone Adjustable Ring
Rocky's Crystals & Minerals
A symbol of connection to all things. The tree has roots that reach deeply into the soil, acknowledging its connection to, and accepting nourishment from, Mother Earth. A symbol of family and connection to your ancestors. A tree symbolizes the generations of your family; a tree sprouts from a seed, grows and branches out, sees how far it can go, and then creates a new fruit that gives life to the next generation, to begin anew. As a symbol of your growth into a beautiful and unique person. When trees are young, they pretty much all look the same. But, as they grow older, they weather storms and are battered by the forces of wind and water. Over time, they become very unique and beautiful in their eccentricity and idiosyncrasies. In this way, the tree of life is a symbol of a fresh start on life, positive energy, good health, abundance and a bright future.
Approximate Size: Adjustable ring fits most.
Please reference picture as an example of the product. All stones will vary based on its natural occurring shape, color and variation given by mother earth.