---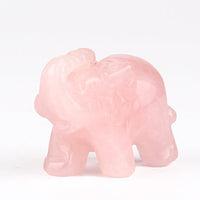 Rose Quartz Prosperity Elephant
Rocky's Crystals & Minerals
Rose Quartz is the stone of unconditional love, self-love, forgiveness and oneness. Elephants represent divinity and abundance. Place your elephant statue's trunk toward your front door for incoming blessings and love.
Elephants are traditionally considered a symbol of good luck, wisdom, fertility, and protection. Wearing or placing the image of the elephant with its trunk raised in your home is thought to attract good fortune, as it showers its positive energy out of the trunk and into all surrounding beings and spaces.​ ​
Rose quartz is one of the most popular crystals in healing, jewelry, as well as ​feng shui​. Famous for attracting and keeping ​love​, rose quartz is also used when it comes to healing one's heart from pain and disappointment. The rose quartz goes by the name of the Love Stone because it sends off strong vibrations of love, happiness, warmth, and emotional health.
Size: 1.35" each
Quantity: 1 

Please reference picture as an example of the product. All stones will vary based on its natural occurring shape, color and variation given by mother earth.