---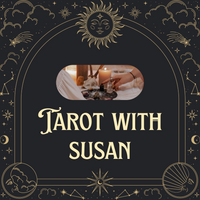 Tarot Reading with SUSAN (MILLBURN, NJ)
Rocky's Crystals & Minerals
Tarot with Susan
When: Email Susan at questionsrcm@gmail.com to schedule an appointment.
Where: Rocky's Crystals & Minerals - 304 Millburn Avenue in Millburn, NJ 07041
$65 per person - Includes a Tarot Guidance Reading and a Free Crystal Intuitively chosen based upon the results of your reading.

Susan provides holistic, immerse readings that beautifully combine her Tarot expertise, intuitive and healing gifts to help others heal find their soul purpose and get through tough times. Susan is grounded in Tarot, Oracle and Spiritual Guidance, Hands-On Energy Channeling and mindfulness.
A quick energy reading will precede the card reading to shed light on current imbalances within the client's chakra system. This will take about 3-5 minutes as the issues are usually felt quickly 😊 Next, tarot cards will be pulled to either gain further insight into the imbalances, or to answer any other question/concern the client has in mind (very flexible!). Spreads will differ from person to person depending on the situation and needs, but can range from decision making, generalized reading, subconscious blocks and how to work through them and even possibly working with guides that may present themselves. Supplemental oracle card(s) will be pulled as well to help guide the client.
Each client will be sent home with a Free intuitively chosen crystal plus a guidance sheet to remind them of what was discussed, main ideas, recommendations of activities/habits/crystals that may assist with clearing blockages, ground energies and achieving success. You are welcome to take notes during your reading to help remember important takeaways.
PLEASE READ BELOW*****************
Please email questionsrcm@gmail.com to schedule a tarot reading appointment with Susan.
Parking is available in the municipal garage located at 24 Lackawanna Pl, or 363 Millburn Avenue or street metered parking is available.
We are located at 304 Millburn Avenue in Millburn, NJ.

Rocky's Crystals & Minerals Millburn Retail Store is open 7 days a week from 12:00pm-6:00pm. 973-467-2222
Namaste.❤️